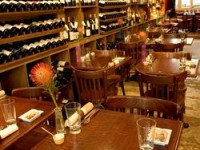 I've just read about a marvellous wine bistro in Paris called Les Papilles, in the 5th arrondissement.
The owner, Bertrand Bluy, was originally a chef patissier in some of France's top kitchens, and in 2003 opened his own place. He wanted to create the kind of bistro that he'd like to hang out in with his rugby friends.
By all accounts it sounds like he's done exactly that, and is succeeding very well.
This is a bistro combined with a retail wine store where you can buy a bottle of wine at the takeaway price, and for a small additional fee you can consume it on the premises. The kitchen provides yummy robust meals, at very reasonable prices. I'll definitely be checking out this place when I'm in Paris next!
PS – Les Papilles means 'tastebuds' in French :-) appropriately. On the front window are the words:
epicerie fin =delicatessen
cave a vins =wine cellar
vins de vignerons = wine growers
From the website:  Located in the heart of a famous Parisian area near the Luxembourg garden and the famous Pantheon, our Bistroy… Les Papilles serving gourmet French terroir cuisine in the cosy atmosphere of a wine cellar and a fine old-style grocery, has an enviable reputation for thrilling your taste buds"
How to find Les Papilles
30, rue Gay-Lussac
75005 Paris
Tel. 01 43 25 20 79
Open: Monday-Saturday,10:30 a.m.-midnight. Lunch: noon-2pm; Dinner: 7:30pm-10pm Closed Sunday.
English Website: http://lespapillesparis.fr
Credit Cards: Yes
Prices: Moderate
.