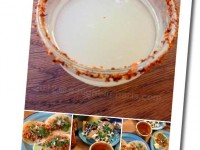 Is Candelaria Mexican restaurant authentic?
Absolutely! Margaritas to knock your socks off, real guacamole to tingle your tastebuds :-)
A couple of new friends invited me to meet them at this little place at 7:0pm without any explainations of what it was like, so I took the Metro to Filles du Calvair (Boulevard du Temple exit) and headed north, ambling along until I came to rue de Saintonge on my left.
Turning into this street, I discovered all kinds of cute and interesting shops and almost had to drag myself along the street until I found the restaurant.
About as big as a postage stamp, there was one table just inside the door which seated about 7 people. Further inside there were a couple of high stools where people could sit at the counter and eat. The counter had a great old icy drink machine which was chilling a margarita mix and I was anxiously awaiting the result (haven't had a good margarita in years!)
While I waited for my friends, I ordered Guacamole to nibble on with excellent corn chips (none of those crumbly packet varieties), and before I knew it the margarita was ready for me to sip.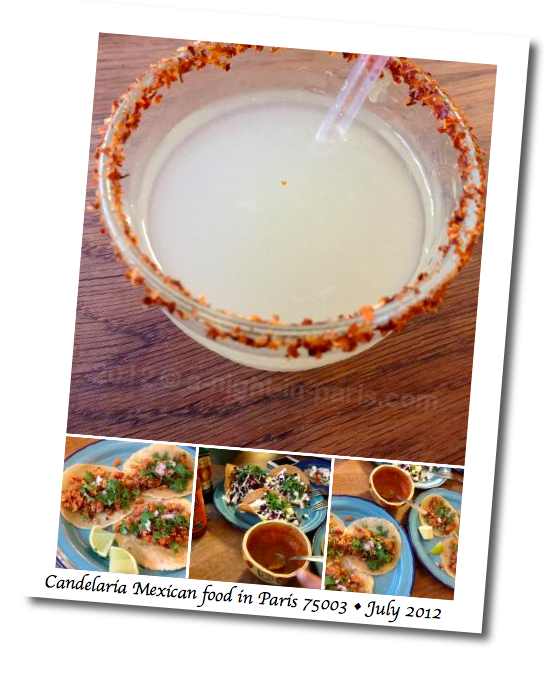 Oh how delicious it was! A small glass with a red-crusted rim, it tasted divine, and was just what I needed after a busy day exploring Paris. Slowly the hungry hordes started to arrive, and I was lucky to be able to hang on to only one spare stool for my friends to sit on. The place got quite busy, very quickly, and everyone lusted over the table — I was hanging on with both hands :-)
When my friends arrived 40 minutes later, we managed to grab two extra stools as another party got up from the table, and the four of us perched around the Guacamole and Mexican beers while we all caught up on our news, told stories, and talked about what we might order. By now the place was really buzzing, and as a few bodies left they were replaced by more from the crowd outside. My tip – get here at 7pm if you really want to grab a seat at the table.
The items on the menu started from about 3,50 euro so between us we ordered a few of each item – soft tacos, hard tacos – which came in a variety of colours with enough sauces to satisfy any hungry crowd looking for delicious spicy Mexican food.
The beers flowed, the food fed our hungry stomachs, laughter followed and a great night was had by all. We eventually left closer to 10pm than 9:30, because the demand for the table was still high :-)
If you're looking for authentic flavour, check out the Candelaria Mexican restaurant – I think you'll be glad you did!
Candelaria Mexican restaurant
52 rue de Saintonge
75003 Paris
Metro: Filles du Calvaire
Have you also seen my Where to Eat in Paris page and also the Famous French Food page yet?
Map to Candelaria Mexican restaurant
[mappress mapid="31″]